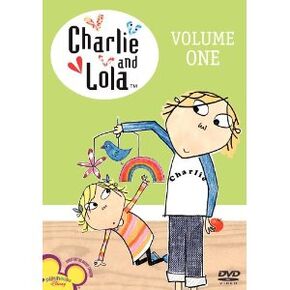 Charlie and Lola Volume 1 is the first DVD in the Charlie and Lola franchise. The disc features the following episodes:
We Do Promise Honestly We Can Look After Your Dog
I'm Far Too Extremely Busy
It's a Secret
I Love Going to Granny and Grandpa's It's Just That...
I'm Just Not Keen on Spiders
I'm Really Ever So Not Well
Outakes
Lola (Maisie Cowell) is in the studio, asking the director how many more pages she has left. The director answers four, to which she replies "Yay." The director she can watch Mr. Bean afterwards, but Maisie says she wants to watch Tom & Jerry. The director says of course she can watch Tom & Jerry, but tells her her to stop messing about.