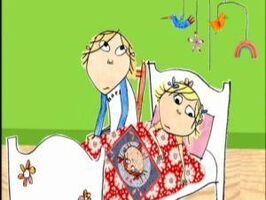 Charlie has promised Marv that he'll play football with him but poor Lola has a very bad cold, and is sick in bed. Her nose is stuffed up, and she cold not stop coughing. Charlie decided to stay home with his sick sister. Charlie didn't want to risk getting sick, so he tried and tried to go and play with Marv. Lola, on the other hand made Charlie stay with her. Charlie asked Lola if she wanted to play with Lotta, but Lola said that her nose was too clogged and that she felt terribly. Charlie then had the idea to distract Lola from her sickness, but to take her on a cloud chase. Lola tried to get out of bed many times, but Charlie had to make sure Lola got her rest. Lola's nose was getting worse, and she asked Charlie to help. Charlie held some tissues agaist her nose, and said for Lola to take a nap. While Lola was sleeping, Charlie made one last try to go play with Marv, but Lola keep sneezing and getting out of bed. Charlie then went to the market to get some cold medicine, while Lola was solving a puzzle. Charlie layed down beside her, and gave her the medicine, with some soup. They both fell asleep until the next morning, when Charlie had a terrible stuffy nose. Lola had gave her cold to Charlie! When Marv knocked on the door, Charlie could not come and play. He had to stay in bed, but Lola made sure he would have a good time, even when he's sick.
Ad blocker interference detected!
Wikia is a free-to-use site that makes money from advertising. We have a modified experience for viewers using ad blockers

Wikia is not accessible if you've made further modifications. Remove the custom ad blocker rule(s) and the page will load as expected.